The Best PXE Server for MS Windows
What is a PXE server?

A Preboot eXecution Environment server offers the needed network resources to client PCs that were configured to boot from one of its network devices instead of booting from the classic mass storage options (SSD/HDD/DVD).
The offered environment mainly consists of DHCP or proxyDHCP and TFTP server services. The PXE client-side counterpart is implemented either as part of the booting PC UEFI firmware or in legacy hardware as a Network Interface Card (NIC) BIOS extension. PXE booted PCs usually trigger either an immediate full network OS install process (Windows/Linux/etc.) or the network load of a live OS (i.e. Live Linux distributions) using at this point powerful transfer protocols like HTTP, SMB/CIFS, NFS, etc.

"PXE boot" = "Network boot", "PXE Install" = "Network install"
Serva is an Automated PXE Server Solution Accelerator based on an all-in-one portable multi-server engine
HTTP server
FTP server
TFTP server
TFTP client
DHCP server
proxyDHCP server 1
BINL server 2
DNS server
SNTP server
SYSLOG server

1- PXE DHCP service that does not require altering your currently in place DHCP infrastructure.
2- Microsoft WAIK/ADK independent RIS and WDS alternative.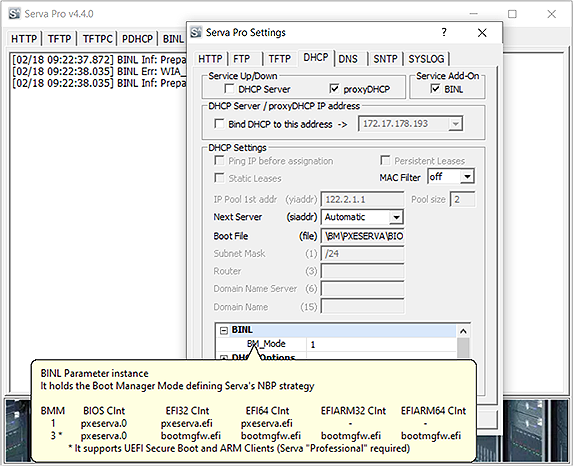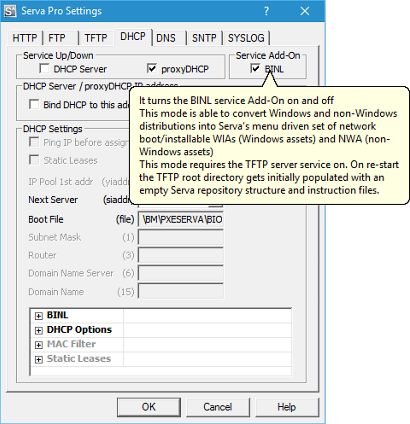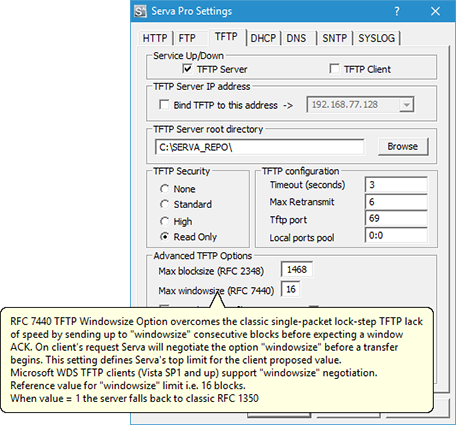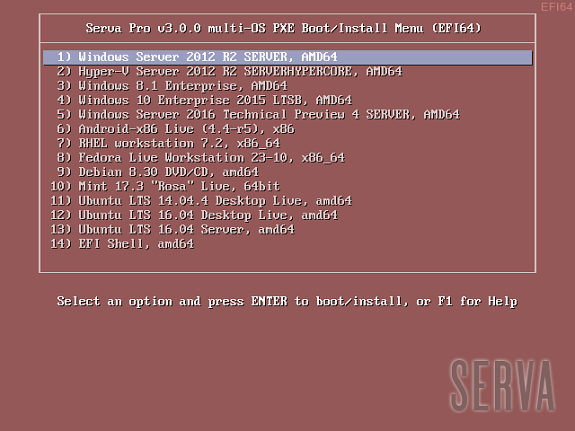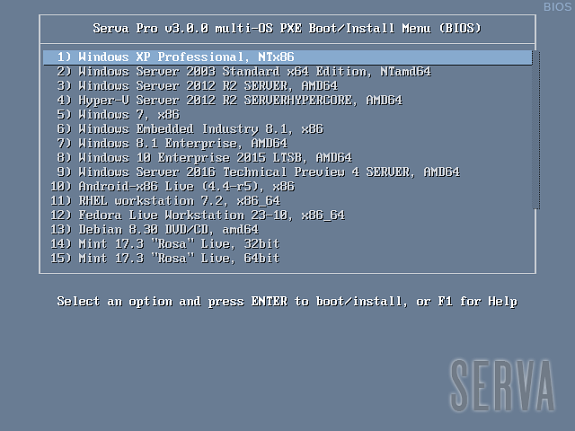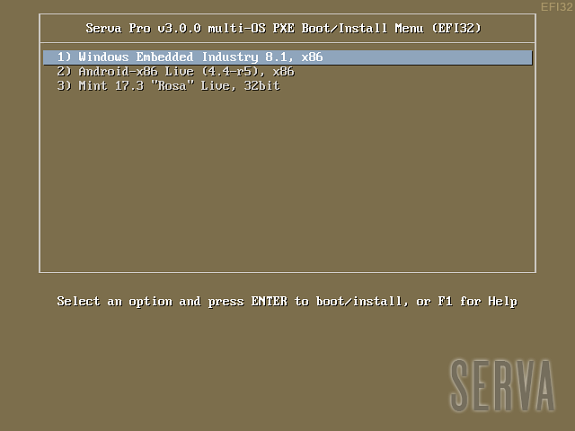 Serva is a light (~4 MB), yet powerful Microsoft Windows application. It was conceived mainly as an Automated PXE Server Solution Accelerator. It bundles on a single exe all of the underlying server protocols and services required by the most complex PXE network boot/install scenarios simultaneously delivering Windows and non-Windows assets to UEFI (now also including ARM 32/64-bit UEFI) and BIOS based targets.

It includes proxyDHCP services and also a WAIK (Windows Automated Install Kit) and ADK (Assessment and Deployment Kit) independent RIS and WDS server alternative.
Serva's application field also tackles the ultra-fast set-up of simple single-protocol solutions like i.e. HTTP, FTP or TFTP server for file delivery.
Serva includes a Task Sequence Manager allowing, among other things, the Capture and Deploy of Windows PC images.

The application does not require installation, it does not save keys on your Windows registry, and it can be used right away. Serva includes a very simple and comprehensive interface that will quickly guide you through all its settings.

Serva is a fast, full native C/C++ multi-threaded application, see its requirements here.

See what Serva can do for you by reading its Application Notes starting here.